Four screenings, 30 minutes and $100 can provide lifesaving information that may help you avoid heart disease.
And, they'll come to you. Well, sort of.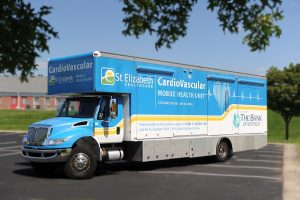 It's money and time well-spent, said Jeanie Foley, Prevention and Wellness Coordinator of the St. Elizabeth CardioVascular Mobile Unit.
Foley, RN, BSN, said the mobile testing unit tours the region to bring the tests to senior centers, churches and community sites. Remke Markets, too. "Our target is the community at large," said Foley, adding that St. Elizabeth Healthcare's goal is to reduce the number of heart-related deaths by 25 percent by 2025 in Northern Kentucky.
It's $25 per screening; $100 for all four. Specifically,
A quick-stick blood test: Measures blood sugar (which can indicate pre-diabetes) and cholesterol. LDL (bad cholesterol) contributes to plaque in the arteries. HDL (good cholesterol) carries the LDL to the liver to be broken down and passed from the body.
Carotid screening: Using Doppler technology and an ultrasound, the technician can view the arteries of the neck, plaque and the movement of the blood flow. Because the carotid arteries carry blood to the brain, blockages can cause strokes.
Peripheral Arterial Disease screening: This test measures blood pressure in both legs and arms at the same time. The pressure should be fairly equal to rule out circulation issues.
Abdominal Aortic Aneurysm screening: This ultrasound screens for enlargement or aneurysm in the abdominal aorta that could lead to a ruptured aortic artery.
Offering mobile testing off-site is an attempt to reach people who may not regularly go to the doctor or who may be anxious about going to a hospital for tests.
It also serves "people who want to be more proactive about their health. We have a lot of doctors who recommend the screening as part if their baseline evaluation. However, it's not something that insurance will cover, if you don't have that disease," said Foley.
St. Elizabeth's goal is to be involved in the community. "It's a good way to do that, it's just the right thing to do," said Foley.
But only $100 for all four tests?
"We just do it for that rate because we want to be able to offer that service to the community," said Foley. "We are out five days a week, at least five. Sometimes Saturdays."
To schedule an appointment, call 859-301-9355 or click the button below. Bring cash, a check or a credit card. Insurance is not accepted.
Click here or scroll down to see all upcoming dates.
June 2016
Wednesday, June 1 "" BB&T, Independence, KY
Monday, June 6 "" St. Thomas Church, Ft. Thomas, KY
Wednesday, June 8 – BB&T, Crestview Hills, KY
Thursday, June 9 "" Kroger Marketplace, Newport, KY
Friday, June 10 "" Remke Markets, Taylor Mill, KY
Monday, June 13 "" Kroger, Florence, KY
Tuesday, June 14 "" St. Elizabeth Grant, Williamstown, KY
Wednesday, June 15 "" Kroger, Cold Spring, KY
Thursday, June 16 "" Five Seasons Family Sports Club, Crestview Hills, KY
Friday, June 17 "" Kroger, Bellevue, KY
Monday, June 20 "" St. Elizabeth Physicians, Lawrenceburg, IN
Tuesday, June 21 "" St. Elizabeth Florence Professional Building, Florence, KY
Thursday, June 23 "" Kroger, Ft. Mitchell, KY
Friday, June 24 "" St. Elizabeth Covington, Covington, KY
Monday, June 27 "" Grant County Drugs, Dry Ridge, KY
Wednesday, June 29 "" Kroger Marketplace, Florence, KY
Thursday, June 30 "" Town & Country Sports and Health Club, Wilder, KY
July 2016
Wednesday, July 6 – Ludlow Pharmacy, Ludlow, KY
Thursday, July 7 – Kroger Marketplace, Independence, KY
Friday, July 8 – Remke Markets, Hebron, KY
Saturday, July 9 –  Jaymie Jamison Foundation Event at the Newport Southbank Bridge, Newport, KY
Monday, July 11 – Kroger, Covington, KY
Tuesday, July 12 – St. Elizabeth Grant, Williamstown, KY
Wednesday, July 13 – BB&T, Warsaw, KY
Thursday, July 14 – Kroger Marketplace, Newport, KY
Friday, July 15 – Lawrenceburg Community Center, Lawrenceburg, IN
Monday, July 18 – Kroger, Covington, KY
Tuesday, July 19 – St. Elizabeth Florence Professional Building, Florence, KY
Thursday, July 21 – Five Seasons Family Sports Club, Crestview Hills, KY
Friday, July 22 – St. Elizabeth Covington, Covington, KY
Wednesday, July 25 – Blessed Sacrament Catholic Church, Ft. Mitchell, KY
Tuesday, July 26 – Grant County Drugs, Crittenden, KY
Wednesday, July 27 – Kroger, Union, KY
Thursday, July 28 – Kroger, Cold Spring, KY
Friday, July 29 – Crestview Hills Town Center, Crestview Hills, KY