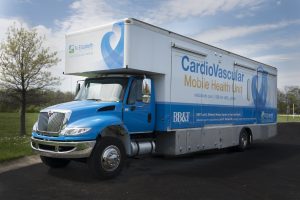 The shiny blue and white van you see parked at churches or stores is a gateway to the latest in technology and understanding your heart health.
Patients who climb aboard the St. Elizabeth Healthcare CardioVascular Mobile Health Unit and pay $25 for each test they want get preliminary results immediately.
All screenings are then read and verified by St. Elizabeth Healthcare physicians (such as interventional radiologists or vascular surgeons). Once read, the results become official and are sent through the mail to the patient and made available as electronic medical records.
Abnormal findings are sent on to the patient's family doctor, said Jeanie Foley, RN, BSN, who is the Prevention and Wellness Coordinator of the mobile unit.
The results of the blood test, which take just a few minutes, and the Cardiac Age Risk Assessment are provided on-site in a series of easy-to-read charts showing levels ranging from desirable to high-risk for cholesterol, glucose (sugar in your blood), body mass index, and blood pressure.
The staff, which also includes certified vascular technologists and a physician's assistant, can also perform: Peripheral Arterial Screening to measure blood pressure in the legs and arms; Abdominal Aortic Aneurysm test for abnormalities of the main artery in the abdomen; and a screening of the Carotid Artery for possible plaque buildup in arteries supplying blood to the brain.
Foley said the mobile testing unit tours the region to bring the tests to the community and help reduce cardiac deaths by 25 percent by 2025 "" a core mission for St. Elizabeth.
"It's non-threatening. We have a lot of people who come on who are afraid to go to the doctor, afraid to have things done. They come in here and they say 'this is so easy, it's so nice,'" said Foley. "It's really a different environment," Foley said, of the spacious van with screening areas.
In addition to mobile testing, St. Elizabeth offers free education events. "We come into the churches or community areas and teach heart healthy lifestyles, symptoms of a heart attack, symptoms of a stroke, hands-only CPR," said Foley.
"We educate them a little bit about why it's important to be proactive with your health."
A four-hour fast is required for the blood test and appointments are preferred. Walk-ins are accommodated but to avoid possibly having to wait, call 859-301-WELL (9355). Insurance is not accepted, so patients should bring cash, check or credit card. For all upcoming dates, click here.