It's never too early to start healthy habits.
St. Elizabeth Healthcare's Heart & Vascular Institute has joined the "Go Red for Women" campaign to teach Girl Scouts how exercise and smart eating can protect their hearts for a lifetime.
On Saturday, October 31, scout troops are invited to a morning workshop to earn their "Go Red" patch on-site. It's free, fun and interactive. Troop leaders must register by October 20.
"It's a great opportunity to learn about heart health and develop good habits," said Lori Fovel of the American Heart Association. The workshop is part of the shared mission between the Heart Association and St. Elizabeth to promote heart health.
From Daisies to Cadettes, scouts will explore heart health with a nurse practitioner and hands-only CPR. There will also be Zumba, a heathy snack and a visit from Rosie Red, one of the Cincinnati Reds' beloved mascots.
The goal is to educate scouts about women's risk for heart disease.
The hope is to encourage healthy heart habits for a lifetime.
Designed by the American Heart Association and its "Go Red for Women" effort, the Northern Kentucky workshop is locally sponsored by St. Elizabeth and Citi. It will be held at Citi's offices in Florence  (4600 Houston Rd., Florence, KY).
For more details, click here.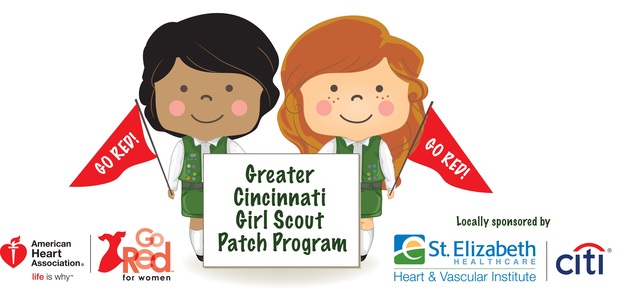 To register for the October 31 Girl Scout "Go Red" Patch Workshop, call 513-842-8868 or email jenny.hobbs@heart.org. Your scout – Daisy, Brownie, Junior or Cadette – will be able to earn her patch that morning. The deadline to register is October 20.